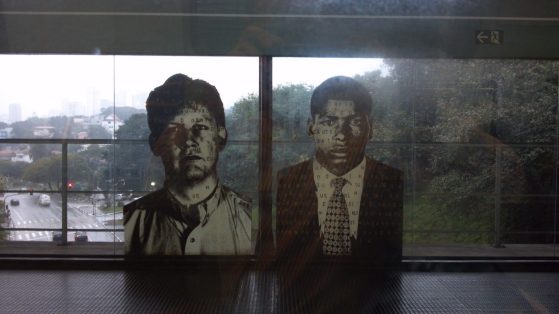 Undergraduate students at the University of Michigan may pursue a Minor in Portuguese or an RLL Major by combining Portuguese with Spanish, French, and/or Italian. Graduate students may pursue the Graduate Certificate Program in Afro-Luso-Brazilian Studies.
The objectives of the Portuguese Program are to help students achieve proficiency in the Portuguese language and to learn about the rich cultures of the Lusophone (or Portuguese-speaking) world.
With approximately 260 million speakers, Portuguese is the seventh most widely spoken language in the world. It is the official language of Brazil, Portugal, Angola, Mozambique, Cabo Verde, Guinea-Bissau, São Tomé and Príncipe, and East Timor.
Fluency in Portuguese will open multiple professional opportunities in multiple countries with promising futures in connection to public health, biotechnologies, energy, environmental science, performance, literature and the arts, social justice advocacy, architecture, international relations, business, education, and tourism.
Speakers of Spanish have a significant advantage in being able to learn Portuguese in less than a year, given the close proximity of both languages based on their similar grammatical structures and vocabulary. Fluency in both Spanish and Portuguese will open up opportunities across Latin America and the Iberian Peninsula of Europe.

Brazil, with a population of approximately 206 million, is the largest country in Latin America as well as the sixth largest economy in the world. It is one of the emerging global geopolitical powers of the 21st century and a major player in the areas of agriculture, the environment, energy and biofuels, media, popular music, aerospace, banking, and sustainable development. 60% of the Amazon rainforest —critical to the planet's survival— is located within Brazilian territory. Brazil is a multiracial nation with the largest Afro-descended population outside of the African continent. In 2014 Brazil hosted the FIFA World Cup in soccer and Rio de Janeiro hosted the summer Olympics in 2016.
Lisbon, Portugal —one of the most charming and cosmopolitan capitals of Europe— is a major cultural center of the Portuguese-speaking world at large with a significant population from the former Portuguese empire (Brazil as well as parts of Africa and Asia).
Angola is Africa's second largest oil producer and has been fueling one of the world's fastest growing economies. Angola also is the ancestral land of many Afro-descended peoples in the diaspora, including in the United States.
Both Africa and Brazil are strategic priorities for the University of Michigan, so there is a range of exciting opportunities for collaboration with Brazilian and African institutions with visitors across many academic fields as well as the arts. This is a very exciting time to study Portuguese at Michigan!
Course Offerings
For a list of Portuguese courses offered in recent semesters, visit the LSA Undergraduate Course Catalog. For information on currently offered Portuguese courses, visit the LSA Course Guide.
RLL course information and highlighted courses
Portuguese Cognate Courses
A Portuguese cognate course is a course in which a majority of the content focuses on Portuguese studies, but which does not give instruction primarily in Portuguese. 
List of Portuguese Cognate Courses
Portuguese Cognate Request Form (PDF)
Non-UM Study Abroad and Domestic Transfer Credit
Review and follow this PDF checklist which outlines the approval process for non-UM study abroad and domestic transfer credit.
Please note:  students are required to have coursework pre-evaluated by an RLL faculty advisor prior to enrolling or going abroad; syllabi and specific course descriptions are needed. A final evaluation of coursework is required upon completion of the course or upon return from abroad. Specific courses and credits must appear on the transcript; syllabi and completed coursework are needed. 
For information regarding earning credit for UM/CGIS study abroad programs, please reference the RLL Study Abroad page page.
Portuguese Language Resources
Angola:
Embassy of the Republic of Angola*
https://angola.org/
Jornal de Angola (government-sponsored daily)
http://jornaldeangola.sapo.ao/
Maka Angola (opposition and anti-corruption news service)
http://makaangola.org/
TPA — Televisão Pública de Angola
http://tpa.sapo.ao/
(click on "Multimedia" to see videos)
Brasil:
Universo Online (UOL) (news and entertainment)
http://www.uol.com.br/
TV Cultura (live 24 hours)
https://cultura.uol.com.br/aovivo/
Rádio Cultura Brasil (live 24 hours)
https://cultura.uol.com.br/radio/
TV Brasil Internacional  (live 24 hours)
http://tvbrasil.ebc.com.br/internacional
O Globo Online (daily)
http://oglobo.globo.com/
Folha Online (Folha de São Paulo)* (daily)
http://www.folha.uol.com.br/
O Estado de São Paulo (daily)
http://www.estadao.com.br/
El País Brasil (Alternative media outlet)
https://brasil.elpais.com/
BBC Brasil (Alternative media outlet)
http://www.bbc.com/portuguese
Revista Veja (weekly)
http://veja.abril.com.br/
Carta Capital  (Alternative weekly)
http://www.cartacapital.com.br/
Globo News (24 hours)
http://globonews.globo.com/
Globo.com (Videos, entertainment, news, sports)
http://www.globo.com/
Rádio Pernambucana
http://radiopernambucana.com/

Nova Brasil FM (São Paulo-based Brazilian music station)
http://www.novabrasilfm.com.br
Cabo Verde:
Sapo.cv (most complete news and media website on Cape Verde)
http://www.sapo.cv/
A Semana Online (major Cape Verdean daily)*
http://www.asemana.publ.cv/
Cape Verdean Radio Stations Online
http://radiosonline.sapo.cv/
RTC – Rádio e Televisão de Cabo Verde (radio/TV online)
http://www.rtc.cv/
Expresso das Ilhas
http://www.expressodasilhas.sapo.cv
Guiné Bissau:
Guiné-Bissau Gazeta de Noticias (notícias, atualidades e opiniões)
https://gnbissau.com/
RDN - Rádio Nacional da Guiné-Bissau (live stream)
http://rdngbissau.myl2mr.com/

Rádio Sol Mansi (live stream)
http://www.radiosolmansi.net/
Moçambique:
Sapo.mz (news and media website on Mozambique)
http://www.sapo.mz/
Notícias (major Mozambican daily)
http://www.jornalnoticias.co.mz
Verdade (alternative media)
http://www.verdade.co.mz/
O País Online
http://www.opais.co.mz/index.php
Rádio Moçambique 
http://www.rm.co.mz/
Portugal:
RDP – Rádio e Televisão de Portugal (the most important radio/TV network [Antena 1, 2, 3, RDP África, RDP Açores, RDP Madeira]. It includes live TV and programming on demand for free).
http://www.rtp.pt
SIC Televisão
http://sic.sapo.pt/
Público Online
http://www.publico.pt/
Diário de Notícias
http://www.dn.pt/inicio/default.aspx
Expresso (major weekly newspaper)
https://expresso.pt/
TSF (radio news 24 horas)
http://tsf.pt
Revista VISÃO
https://visao.sapo.pt/
Afrolis (Audioblog focusing on African Lisbon)
https://radioafrolis.com/
São Tomé e Príncipe:
Agência STPress (general info in Portuguese)
http://www.stp-press.st/
São Tomé e Príncipe (general info in English)*
http://www.saotome.st/
World broadcasters in Portuguese to Lusophone Africa,  Brazil, and/or Europe:
RTP – África (live TV 24 hours for free)
http://www.rtp.pt/play/direto/rtpafrica
Radio France Internationale in Portuguese to Africa and Brazil*
http://pt.rfi.fr/
BBC Brasil*
http://www.bbc.com/portuguese
Deutsche Welle em português*
(A Voz da Alemanha para o Brasil, África e a Europa)
http://www.dw.com/pt/not%C3%ADcias/s-7111?id=607
Voz da América em português para África*
http://www.voanews.com/portuguese/
*Information available in English as well