French
Le Comité Francophone, the French club at the University of Michigan, aims to create an inclusive space for French-speakers of all levels to practice their French and connect with others of different backgrounds, as well as to foster the learning of French and Francophone cultures in a flexible and fun environment.
Join us for relaxed conversations to develop your speaking skills while also getting exposed to different experiences and possibilities through the French language! Some yearly event staples include Macaron Mixers, Charcuterie Nights, Movie Viewings at State Theater, Ice Skating at Yost, and more! We would also love to hear your ideas about other events we could host!
LCF further provides members with opportunities through which to exercise their skills, such as becoming a tutor for other French students.
Fall 2023 Conversation Hours:
Every Tuesday from 7:00 pm - 8:00 pm at Amer's on State Street.

Fall 2023 Drop in Tutoring:
In Person (email to schedule a meeting)
Email Mikaela (robbinm@umich.edu) to schedule a meeting on  Mondays 3-4 PM in the Language Resource Center
Email Madeleine (maddylau@umich.edu) to schedule a meeting on Wednesdays 6-7 PM in the Language Resource Center
The Language Resource Center can be found in the basement of North Quad (1500 NQ).
Remote:
Italian
Italian Student Association (or ITSA), the University of Michigan's only Italian club, provides students the opportunity to learn more about Italian culture while practicing their speaking skills in a relaxed and enjoyable setting. Some of the events we host include game nights, movie screenings, cooking demos, soccer tournaments, club outings to nearby cities and towns, and more! ITSA also organizes exam reviews for Italian 101 and 102 students. Suggestions for other events you'd like to see happen are more than welcome! The club aims to serve as a resource to students interested in any opportunity related to Italian language and culture – whether it be academic or out of personal curiosity – and also to serve as a liaison between students and the Italian department and faculty. We can help with homework, give study abroad advice, or just generally help you find what you're looking for. ITSA great time!
Weekly events explore all things Italian. They alternate between themes that help members gain experience with conversational Italian and/or expand their understanding of Italian culture. 2023-24, meetings will take place on Mondays at 7pm. 
Tutoring - by appointment, contact ITSAboard@umich.edu for more information. 
If you would like to receive updates and info about our events, send an email to ITSAboard@umich.edu.
You can also follow us on Instagram @itsaumich or visit our website  https://itsaumich.wixsite.com/home for up to date information and quality content.
Feel free to email us with any questions. We'll see you at our next event!
Spanish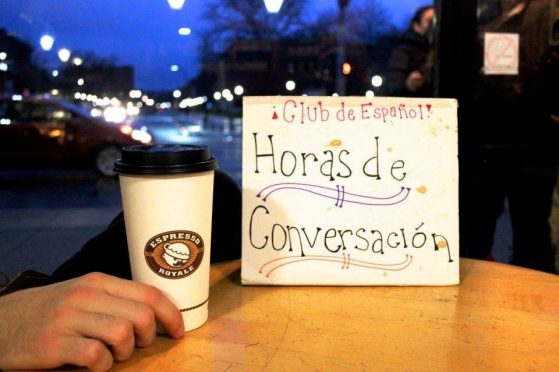 The Spanish Club is a student run organization focusing on the Spanish language and Hispanic/Latinx culture. This club has opportunities for students of all levels, from beginners to native speakers. We provide many resources to students such as holding conversation hours during the academic year to practice speaking Spanish as well as free, walk-in peer tutoring. We also hold monthly themed meetings and sponsor fun-filled recreational events including Yost skating nights, Spanish movie nights, Latin Dance nights, and local community service.
Fall 2023 Spanish Conversation Hours:
TBA
Fall 2023 Tutoring:
TBA                  

To learn more about the Spanish Club, and to be added to the club's list-serve, please email spanishclubeboard@umich.edu or follow us on instagram @spanishclubuofm