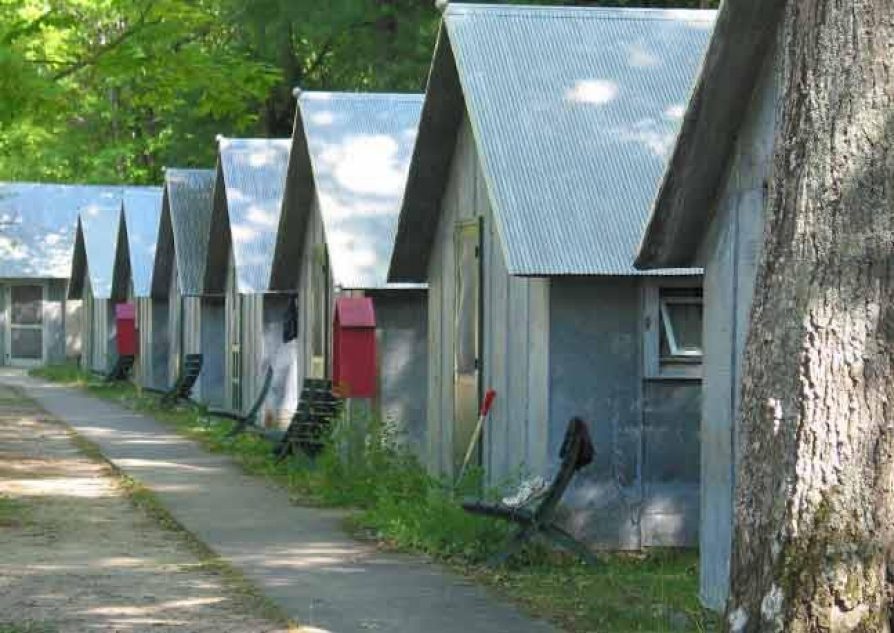 The Biological Station property owns ~10,000 contiguous acres on and around Douglas Lake. We also own a 3,200 acre tract on Sugar Island in the St. Mary's River near Sault Ste. Marie, Michigan. While alll of our land is open to the public, most of it is designated as Nature Research Area, with minimal disturbance allowed.
These land holdings, together with other public lands in the region, contain a rich diversity of natural habitats: extensive forests of pine, northern hardwoods, conifer swamps, and successional aspen stands, fields and meadows, pine plains, all types of wetlands, and rivers and streams.
Our campus is laid out in the form of a small village along South Fishtail Bay on Douglas Lake. We have about 150 buildings for housing, dining, teaching, research and maintenance.
Resident accommodations include 70 one-room cabins, 30 larger two- to six-room cabins, and a 14-room dormitory. Our spacious dining hall/kitchen is capable of seating over 275 people. Year-round residents use winterized cabins or homes.
The largest building in camp is the Alfred H. Stockard Lakeside Laboratory with 24,000 square feet of floor space especially designed for biological research. The Marian P. and David M. Gates Lecture Hall is the principal venue for intellectual and cultural exchange. It has a 220-seat auditorium, a 100-seat seminar room, and a kitchenette.
Our library is one of the best among inland field stations, holding over 10,000 volumes and noted for its collections in limnology, ornithology, ecology, systematics, taxonomy, and natural history.