On U-M Gateway: MAMMOTH DISCOVERY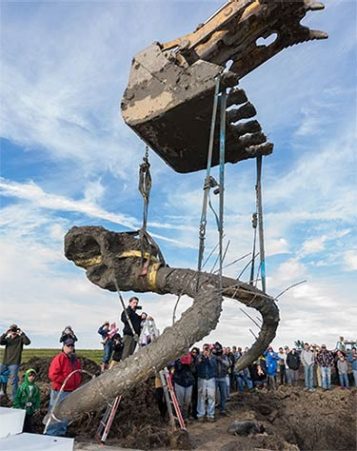 An ancient mammoth unearthed in a farmer's field southwest of Ann Arbor may provide clues about the lives of early humans in the region, according to Professor Daniel Fisher, the U-M paleontologist who led the dig.
A team of University of Michigan paleontologists and an excavator who donated his time worked all day at the site in Lima Township, roughly 10 miles southwest of Ann Arbor and several miles from the town of Chelsea. They were able to recover about 20 percent of the animal's bones, including the skull and two tusks, numerous vertebrae and ribs, the pelvis and both shoulder blades.
The bones are from an adult male mammoth that likely lived 11,700 to 15,000 years ago, though the remains have not yet been dated, said Fisher. The site holds "excellent evidence of human activity" associated with the mammoth remains, he said.
"We think that humans were here and may have butchered and stashed the meat so that they could come back later for it," said Fisher, director of the U-M Museum of Paleontology and a professor in the Department of Earth and Environmental Sciences and the Department of Ecology and Evolutionary Biology.
Mammoths and mastodons – another elephant-like prehistoric creature – once roamed North America before disappearing about 11,700 years ago. Over the years, the remains of about 300 mastodons and 30 mammoths have been recovered in Michigan, Fisher said.
"We get one or two calls like this a year, but most of them are mastodons," he said.
Most of the mammoth finds in Michigan are not as complete as the remains uncovered by the U-M team, Fisher said.
The team's working hypothesis is that ancient humans placed the mammoth remains in a pond for storage. Caching mammoth meat in ponds for later use is a strategy that Fisher said he has encountered at other sites in the region.
Read full Michigan News press release