Getting to know you: unique scientific illustration class explores UMMZ collections
How would you like to spend 16 weeks getting intimately acquainted with a dung beetle?
The undergraduate students of the Stamps School of Art and Design class, Making Science Visible, began the winter semester at the University of Michigan's Museum of Zoology. For many, this is an introduction to scientific illustration.
The students received personal tours from the collection managers to see which of the myriad specimens attracted them for one reason or another. They each carefully chose their own critter to spend the semester getting acquainted with on multiple levels. The various and extensive UMMZ collections include birds, fish, insects, mammals, molluscs, reptiles and amphibians. The collections managers played a key role in the success of the class by sharing their knowledge and opening up their spaces to the students.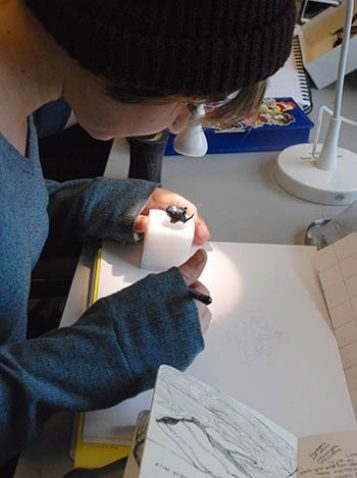 Rachel Snyder selected the dung beetle (Scarab oxysternon) because she liked the plane of its exoskeleton. Snyder describes the experience with her specimen as very fulfilling and over the course of the class it morphed from a scientific to an abstract and representational perspective.
"The curves and ridges of the beetle inspired me to create rich cavernous shapes and imagery, Snyder said. "This imagery is still influencing my current work while I am abroad in Ireland." Her favorite creation is a stone lithograph depicting an abstract representation of the beetle.
"The most interesting discovery I made about my specimen is that dung beetles can navigate using the Milky Way! They actually gaze at the stars to guide them home. It made them seem more human than I could have previously imagined."
Her favorite assignment was the emotional response to the dung beetle. She felt she had the most creative freedom with that assignment.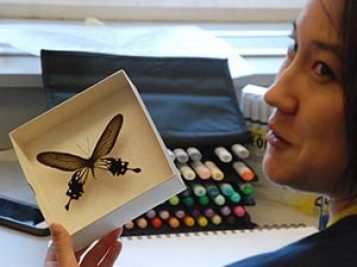 Sachi Sugiyama selected a swallowtail butterfly (Losaria coon) with unique, narrow wings.  "I love its wings," Sugiyama said.
The praying mantis (Stagmatop petra) was the choice of Sidney Krandall, who liked the cultural association and bright color of the insect.
"My work is often very detail oriented, I could have spent a whole semester working on the two-inch wings of the mantis alone," Krandall said. "Studying a small, mostly monochromatic insect provided me with the opportunity to better study all of the intricate textures and details of its anatomy." She said it gave her a better appreciation for organisms she sees every day around Ann Arbor.
The final assignment was the most meaningful for Krandall. She produced paper pamphlets embossed with a depiction of the mantis. The concept was inspired by her wish for a visually impaired individual to experience the intricate beauty of the mantis. Krandall plans to let this concept inspire her future work. (Krandall is pictured below looking through the microscope.)
Emily Mylrea selected the shell of an eastern lamp mussel (Lampsilis radiata) because she was interested in the creature's biology. "I didn't realize the larval stage is parasitic," she said. "They cling on the gills of fish and use them as vectors to disperse upstream." Although interested in mollusks, she said she didn't know much about them, but she did reveal this fun fact: they have more chromosomes than we do.
Mylrea was often asked why she wanted to study a mussel, which may appear physically uninteresting to some. Her interest was in learning how it survives and she said that she discovered many more unusual characteristics of the mussel that are in stark contrast to its "fairly boring shell."
Her favorite assignment was an experimental one where students used different methods to capture an element or characteristic of the specimen. Inspired by the mussel's parasitism, she considered the anatomy of the human ear in relation to the gill of a fish. She crafted a piece of jewelry to clamp onto her ear the way the mussels cling to fish gills.
"I made the jewelry out of molded pieces of thin metal that looked like the shape of the mussel's exterior," Mylrea explained. "The experiment was for me to understand what it might be like living with parasites as well as demonstrating the parasite on to a human body."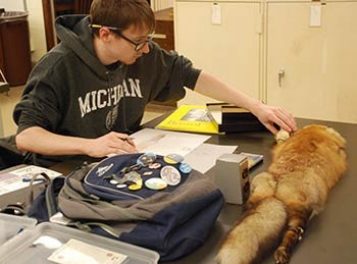 Jacob Dwyer selected a red fox (Vulpes vulpes), partly because it's a rare animal that lives in Michigan, although he wasn't exactly sure what attracted him to the fox. For his first assignment, he sketched the fox with pencil and then planned to add watercolor. "I named my specimen George on my first day with him," he said.
His interpretation of the specimen changed as the parameters of the assignments changed. "Each project seemed to be calling for a different approach or had to be made for a different audience, so we had to think creatively," Dwyer said. He gained a huge appreciation of the fox and it has become one of his favorite animals.
"I was thrilled with my specimen, as flat as it was. The fox has such a great character and researching its behaviors was a lot of fun. I learned a lot about the fox's hunting techniques, including a study that suggests that they may use the Earth's magnetic field to aid them in winter predation."
His favorite assignment was researching a behavior or attribute of the fox and illustrating it for a defined audience. "This process is very important for potential scientific illustrators and was good to learn under the wing of a professional like Brad."
A fun memory for Dwyer was when he took the specimen to the hospital. "The X-ray technician took one look at it – and laughed. I asked him why and he said 'that's a flat fox.'"
The winter 2015 semester marked Professor Brad Smith's fourth time teaching Making Science Visible, a class of his own design. Smith is a professor in the Penny W. Stamps School of Art and Design and a research professor in the Department of Radiology. As students work through the semester's five assignments with their adoptee, their experience of the specimen morphs with each interpretation they make. The five assignments that comprise the arc of the class are:
1. Draw the specimen with fidelity and accuracy through visual observation only
2. Photographic representation of specimen
3. X-ray specimen using digital mammography (Smith's secondary appointment is in radiology)
4. Conceptual illustration, to explain an idea about specimen, for example, its behavior, metabolics, or evolutionary history. Throughout the semester, students read about, study, and investigate their specimen.
5. Emotional response, students explain how they feel about their specimen using a medium of their own choice. The sum of the students' experiences coalesce in the final assignment.
Smith's experience and education intersects science research and visual arts. "My whole life I've wanted to blend art and science. Radiology is a visual science, using imaging to understand complicated biological ideas."
When he started teaching at the Stamps School of Art and Design, he was exploring how to use visual methods to understand a biological subject and the Making Science Visible course was his resulting brainchild.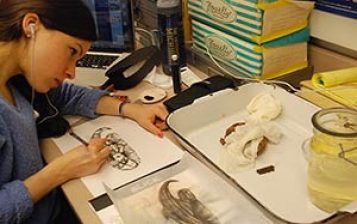 Smith wanted his students to work with real material that they could touch, turn and interact with, not just looking at drawings or photos. Additionally, they gain the experience of working with a museum specimen as opposed to a living animal.
"How they draw their specimen is up to them," Smith explained. "What message do they want to convey? They can show an archetype or a specific example. Part of their role is to determine the story they want to tell and come up with an image that will serve that story."
UMMZ provides this great, student-friendly and convenient opportunity. Smith cites the collection managers' energetic enthusiasm, insightful suggestions, how generous they were with their time, and the productive, unselfish, and knowledgeable support they gave to undergraduate students and him.
"It is one of the most successful and well-enrolled classes at our school because of the expression of interest and support, and the knowledge offered to the students by the UMMZ staff," Smith said.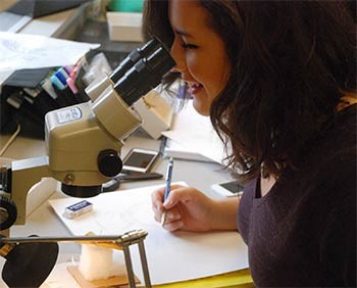 "The UMMZ staff members created a rich, authentic, contextualized, and rigorous opportunity for the students of the "Making Science Visible" class to experience and study these biological specimens closely and thoroughly," Smith continued. "This could only have happened if the staff members were willing to coordinate their schedules, their facilities, and even their locations with each other and in a way that matched the times when this class was held. Their shared passion for this endeavor has made this class a pleasure for me to teach, but more importantly, a unique and valuable learning experience for the students."
The collection managers at UMMZ are: Bird Division: Janet Hinshaw; Fish Division: Doug Nelson; Insect Division: Mark O'Brien; Mammal Division: Cody Thompson; Mollusk Division: Taehwan Lee; Reptiles and Amphibians Division: Greg Schneider.
This article was previously featured on U-M World Class website.
Making Science Visible class Tumblr blog
Previous Stamps School of Art & Design news: One specimen, five ways of seeing