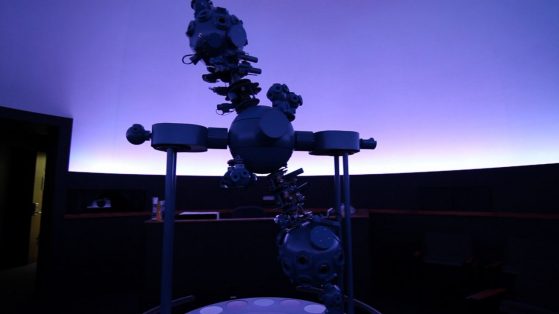 Public open houses are offered at the Astronomy Department's primary campus observatory and planetarium, Angell Hall, on select Friday evenings, courtesy of the Student Astronomical Society. Angell Hall is located on State Street, between North and South University. Open houses include telescope viewing (weather permitting) and planetarium shows.
The telescopes can typically resolve the planets, the moon, the constellations, colorful binary star systems, plus a few of the brighter nebulae, star clusters, and galaxies.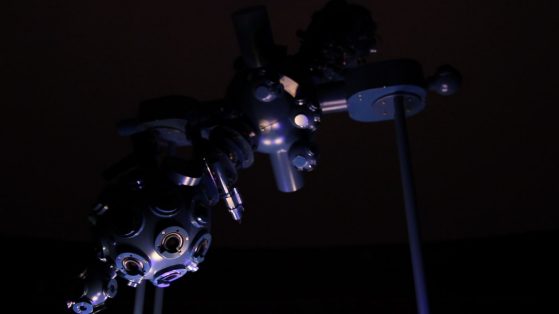 The planetarium can tour the changing night sky from any location on earth — without light pollution.
The planetarium is wheelchair accessible, with space for two chairs. The roof is also accessible, though not yet the telescopes. Assisted listening devices are available.
Click here for the open house schedule.
Access and parking information is provided for guidance only and may change without notice. Parking and Transportation Services (734.764.7474) offers the most up-to-date parking information and a number of helpful campus parking maps.
This map shows parking near Angell Hall. Public/visitor structures and lots are shown in red.
Most university structures and lots are available after 6:00 p.m.. There should be a sign with enforcement hours at the entrance to the lot or structure. They are shown on the map in blue or white. Structures with gold parking have a star on the map. Do NOT park in a gold space, or in anything with special markings such as "University Vehicles Only" as these spaces are enforced 24/7, sometime with a tow truck.
The metered spaces along State Street generally do not require payment after 6:00 p.m., but check the meter to be sure.
Accessible Parking: There is one metered space on northbound State Street between the Art Museum and Angell Hall. Its approximate location is marked on the map. Vehicles with a handicap permit can also park without a University permit after 6:00 p.m. Monday - Saturday and all day Sunday in lot C1, which runs past Kraus up to Mason Hall. Its location is marked on the map.
After-Hours Access: Angell Hall is generally open 24/7 while classes are running, except holidays. It may be closed in the evenings in spring and summer. After-hours building access is on the Diag side, through the "Fishbowl" entrance. The far left door is the one that is normally open, next to the bike racks.