Lech Walesa, a Nobel laureate and former president of Poland, meets with the Weiser Center for Europe and Eurasia (WCEE) director and Scholars at Risk fellows. He was on campus to give the WCEE Distinguished Lecture on Russia's War on Ukraine and Its Global Impact.
On March 4, 2022, Oksana Chabanyuk and her family grabbed their backpacks and headed to the train station. It was their second attempt to flee the Russian invasion and shelling of Kharkiv, a northeastern Ukrainian city.
"There was only that feeling that I had to take the kids to a safer place," she says. "But actually, it's not safe anywhere in Ukraine." Their second attempt was successful. Station officials wouldn't reveal the train's destination, and she and her family ended up in Lviv, in western Ukraine. Weeks later, she traveled with her children to Munich and finally arrived in Ann Arbor in August 2022.
Kseniya Yurtayeva was hesitant to leave Kharkiv with her two children until mid-March 2022, when missiles struck a neighborhood just blocks from her own. They were at the train station within three hours of deciding to evacuate. She and her children made their way to Brussels, and then to Ann Arbor that August. The rest of her family is still in Ukraine.
Chabanyuk, Yurtayeva, and five other professors were invited to Ann Arbor in fall 2022 to take part in the Scholars at Risk Fellowship, created by U-M's Weiser Center for Europe and Eurasia (WCEE).
When the Russian invasion of Ukraine began, the center's director, Professor of Sociology Geneviève Zubrzycki, and a team of determined staff and faculty worked quickly to develop the year-long fellowship program. By spring 2022, an application was online and the center had received more than 80 applications. Zubrzycki originally had funds for two people; by knocking on doors in multiple departments, she was able to bring the count up to seven. Regent Ron Weiser made an additional gift that covered the flights of the fellows and their family members.
To prepare for the fellows' arrival, Weiser Center staff and volunteers coordinated flights, housing, schooling, pediatricians, counseling, event tickets, donations of clothing and household items, and many other details. Finally, with a few exceptions, the fellows arrived in August 2022. Each one is working on a research project with guidance from faculty mentors, and some are still teaching online for their home institutions. Out of the seven originally chosen, five fellows are currently living and researching in Ann Arbor. One of the selected candidates, Daryna Dvornichenko, an associate professor of law, has been unable to come.
Zubrzycki would like to see the fellowship extended, possibly for another year. "They've come to U-M after spending weeks in cellars with their children," she says. "They've come from places where their families and husbands are still at risk every day. They want to go back when it's safe, but it's not safe right now."
Counteracting Misinformation and Propaganda
Russian media disinformation is widespread in occupied territories, leaving some Ukrainians suspicious of their own government. Three fellows are using their expertise to research targeted propaganda, media literacy, and warfare in cyberspace.
"What we call the 'fight for the mind' is getting more and more important," says Katerina Sirinyok-Dolgaryova. She's an associate professor and deputy dean of the Department of Journalism at Zaporizhzhia National University, now working with U-M faculty mentor Pauline Jones, professor of political science and the Edie N. Goldenberg Endowed Director for the Michigan in Washington Program. Sirinyok-Dolgaryova is covering cyber-aggression in Russia's war with Ukraine using Telegram, an encrypted messaging app that keeps users updated on potential attacks or missing relatives. 
"The Ukrainian War is the first Telegram war," she explains. "I want to look deeply at how cyber war is reflected there and how the app is used to counteract Russian propaganda." 
Yurtayeva, an associate professor in the Department of Criminal Law and Criminology of Kharkiv National University of Internal Affairs, believes that cyber-aggression has allowed Russia to ramp up attacks against Ukraine since the annexation of Crimea in 2014. Her current research is on hybrid methods of warfare in cyber, political, and informational fields. "Russians try to make people believe that Ukraine cannot resist the invasion," she says. "Propaganda is being shared on unmoderated message systems, which is why it's necessary to counteract disinformation on both public and private levels."
Ukrainian responses to Russian propaganda are the focus of fellow Anna Taranenko's research. She's a senior lecturer in the Department of International Relations at the National University of Kyiv-Mohyla Academy. To fight disinformation, the Ukrainian government has developed programs on international security and a special department for strategic communication in the Ministry of Culture and Information Policy.
Taranenko notes that heightened cybersecurity measures helped Ukrainians prepare for the war, including the "Internet Armed Forces" who've taken the fight to the Web. "They are basically volunteers who monitor Telegram channels and share messages with influencers or businesses who, for instance, do business with Russia," she explains. They also post announcements that target countries and organizations aligned with Ukraine to gain support and attention from those allies. 
Deep Dives into Culture and History
Irina Sikorska, an associate professor of sociology at Donetsk State University of Management, was scheduled to come to U-M for a six-week WCEE Professional Development Fellowship starting on March 1, 2022. Then Russia invaded Ukraine. Still, prodding from her family and help from the Weiser Center allowed Sikorska to make it to Ann Arbor by mid-March. She was invited to extend her stay as a Scholars at Risk Fellow and continue her research on multiculturalism in Ukraine by her mentor, Zubrzycki.
Unfortunately, Sikorska's mother suffered a heart attack, and she returned to Ukraine in August to arrange for health care. She and her husband now live in Ukraine's capital, Kyiv, since her university was displaced twice due to warfare. Some areas of her life now resemble normalcy, she says, but the rolling blackouts and fears of violence interrupt many aspects of her and her students' lives.
Yurii Kaparulin is an associate professor of history and director of the Raphael Lemkin Center for Genocide Studies at Kherson State University. During his time at U-M, he has completed his Master of Laws degree while also working on a book project that deals with Holocaust history in Ukraine. In particular, the book sheds light on Jewish agrarian settlements in the southern part of Ukraine, created by the former Soviet Union and abandoned after World War II.
His faculty mentor, Jeffrey Veidlinger—the Joseph Brodsky Collegiate Professor of History and Judaic Studies at LSA—is aiding him with advice and manuscript edits. "In a broader perspective, I'm interested in the crime of genocide in the history of Ukraine, especially looking at today's events," Kaparulin explains.
Building Back after the War
Shelling has drastically impaired Ukrainians' access to basic supplies, electricity, stable infrastructure, and civilian housing. Fellows share stories of universities and city centers being shelled and mines left behind in the wake of Russian attacks.
Research by one of the Weiser Center fellows on Soviet Ukraine architecture may be able to help rebuild Ukraine. Oksana Chabanyuk is an associate professor of architecture at O.M. Beketov National University of Urban Economy in Kharkiv who first came to U-M as a Fulbright Visiting Scholar in 2019-2020. She lives in Ann Arbor with her family and works with Claire Zimmerman, associate professor at the Taubman College of Architecture and Urban Planning, as her faculty mentor.
Her research focuses on the contributions of American specialists to the development of industries and cities in 1920s and 1930s eastern Ukraine. She predicts that her expertise in housing, prefabrication, and regeneration of residential areas will contribute to repairing damaged Ukrainian cities.
"My city is very destroyed, and many people's housing is also destroyed," says Chabanyuk. "It's very difficult to plan for the future. But there are also many discussions right now about rebuilding Ukraine."
Sharing the Challenges of War in Ukraine
For the fellows, research can be a welcome distraction from the war back home. Sirinyok-Dolgaryova lives at the International House Ann Arbor with her two sons, but her husband has remained in Zaporizhzhia to take care of his father. Her sister lives in occupied territory, and Sirinyok-Dolgaryova only occasionally gets word about her welfare.
As Kaparulin laments, "Every morning when we wake up, the first thing we do is check the news from Kherson. You wonder, is this the day that you'll see your home or your parents' home destroyed?" After months of moving from country to country, however, he welcomes the stability the fellowship provides his family.
When it becomes difficult to deal with the news, Taranenko focuses on her research and the support of her U-M faculty mentor, Brian Weeks, associate professor of communication and media. From Ann Arbor, she's able to volunteer her free time and donate money to Ukrainian causes online.
Despite the challenges of concentrating on research and life abroad, the fellows are working to educate the U-M and Ann Arbor community. The five living in Ann Arbor traveled to Metro Detroit in October for a 5K walk/run fundraiser to rebuild Ukrainian schools and joined a panel on the future of Ukrainian academia in November. Kaparulin recently held a screening of Kalinindorf, his film on the Jewish resettlement movement in southern Ukraine.
"This fellowship enhances our professional experience," says Sikorska, "and I hope our work will contribute to rebuilding our country and higher education."
"I Want to Say More than Thank You"
U-M staff, faculty mentors, private donors, the Ukrainian diaspora living in Ann Arbor, community volunteers, and many others provided a warm welcome to the Scholars at Risk fellows. In return, fellowship members have made it clear how much they appreciate the support.
Taranenko has been able to share information from U-M events and resources with her students and colleagues. Yurtayeva appreciates her mentor, John Ciorciari, professor of public policy, for being available for advice and professional development opportunities. Sirinyok-Dolgaryova reveals that fellows call Zubrzycki and Birgitta Kohler, the international education coordinator at the Weiser Center, "Mom" and "Godmother" because of their unflagging support.
"It's life-changing for me, too," says Zubrzycki. "This is by far the most impactful thing I've done in my life: helping people flee a very dangerous situation with their children and giving them an opportunity to gain new skills and knowledge."
Chabanyuk says the feeling of safety for her family has been an even greater relief than the research assistance. "I want to say more than thank you," she says, "but I cannot even find the words."
Fellows also expressed their immense gratitude for the U.S. citizens and government who are supporting Ukraine's war efforts. "I hope that people in the U.S. understand that all the help they're providing is not just for Ukraine," says Kaparulin. "It's help for democracy for all."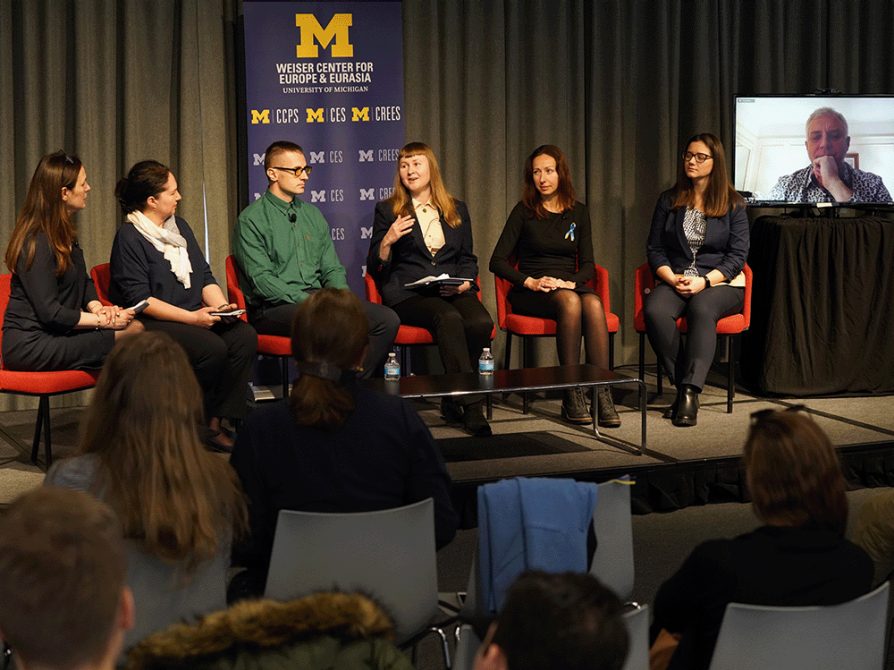 Slide 0

Slide 1

Slide 2

Slide 3

Slide 4

Slide 5

Slide 6

Slide 7

Slide 8
Upcoming events in 2023 will highlight the war in Ukraine and feature the fellows. On February 20, at 5 p.m. in Rackham Auditorium, WCEE will host a conversation with Ukrainian-born retired U.S. Army Lieutenant Colonel Alexander Vindman, former director for European affairs for the U.S. National Security Council, to mark the one-year anniversary of the war in Ukraine. The event will include Ukrainian music and a candlelight vigil from Rackham to the Diag. Additionally, the five fellows living in Ann Arbor will discuss their research in an online symposium on April 17 from noon to 2 p.m. These and other events can be found on the WCEE calendar.
Photos courtesy of Birgitta Kohler