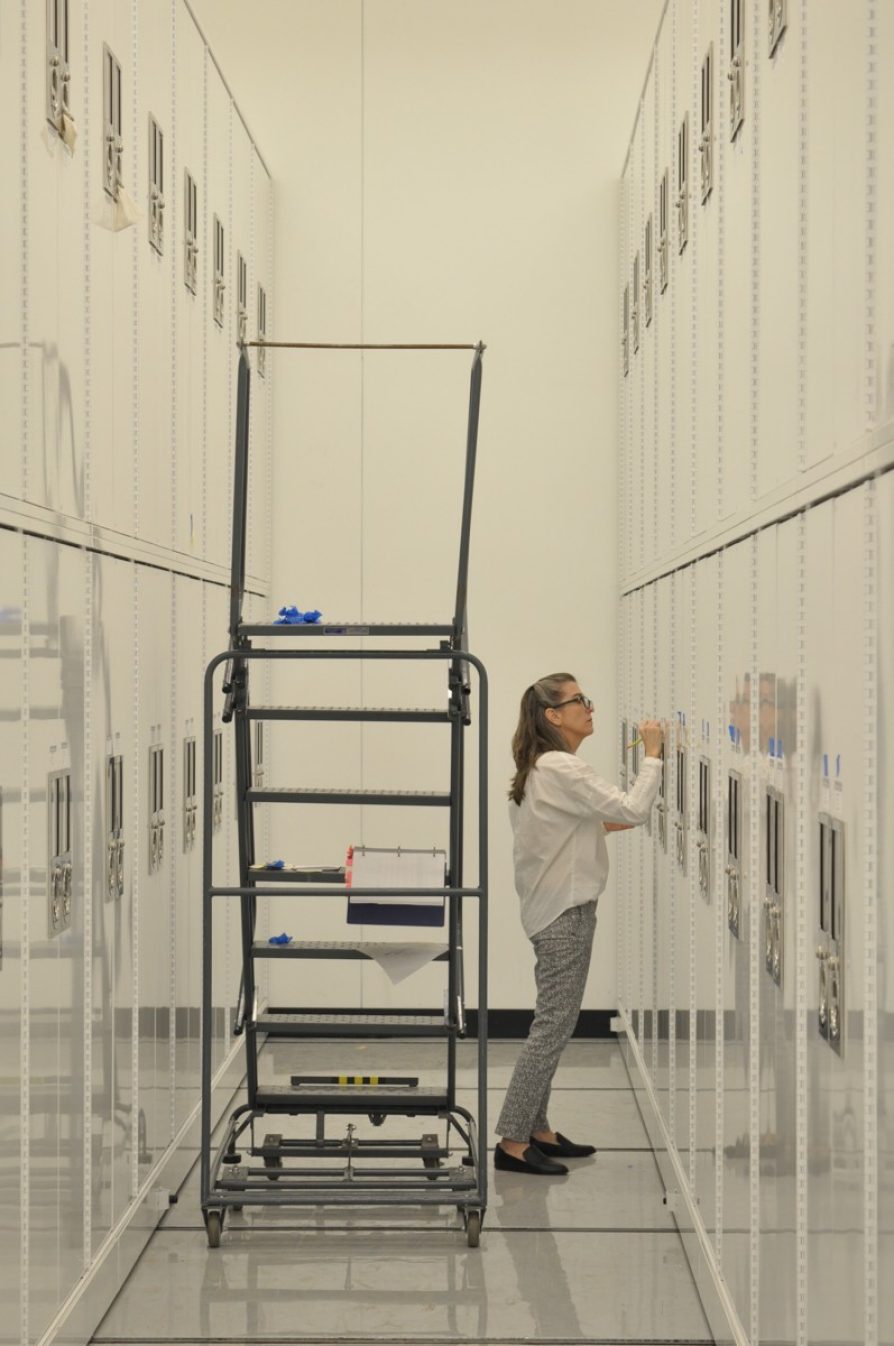 The Insect Division has moved from the Ruthven Museums Building to our new home at 3600 Varsity Drive.  Our new collection space has well-controlled temperature and humidity, and the collection is far more secure than in the past. The cabinets are on compacted storage carriages, and stacked, reach up to 12 feet.  Therefore, rolling ladders are required to access drawers in upper units.  Please have your request for materials ready when you visit, so we can plan on accessing the specimens.
Our space for visitors is adjacent to the collection in Room 1420. There are spacious work areas that can accommodate many visitors. As it is shared space with the rest of the UMMZ, you may have people working on mammals, birds, or mollusks in the same room.   We will provide rolling cabinets for users to store their working materials within during a visit. Long-term visitors may share office space adjacent to the open lab, in Room 1426, or in cubicles elsewhere in the building.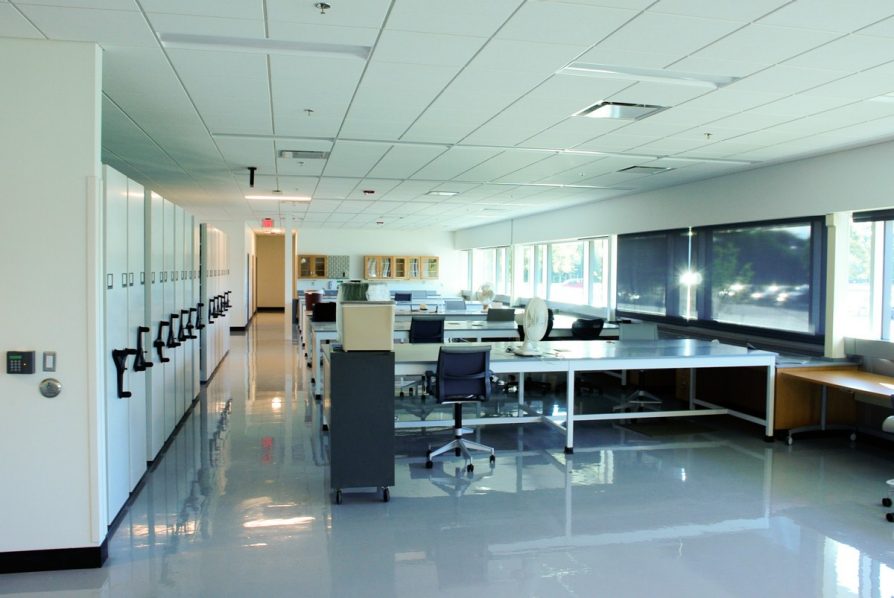 Invertebrate Prep Lab – Insects and Mollusks share the Invertebrate Prep Lab in Room 1406.  This is where specimens are prepared, photographed, catalogued, etc.  A fume hood is available for work requiring exhaust air. 
Wet Collections Space – Our specimens in ethanol are in our state-of-the-art wet collections space in Suite 1300 at varsity Drive. It is across the hall from the dry collections, and features snorkel exhaust and various fume hoods for dealing with bulk collections, sorting tables, large work areas, and is well ventilated and kept at approximately 65°F.  Over 120,000 vials and jars are stored on moveable shelving adjacent to the laboratory space.  Like the dry collections, the wet collections space is shared with other divisions, but the primary users are Ichthyology and Herpetology.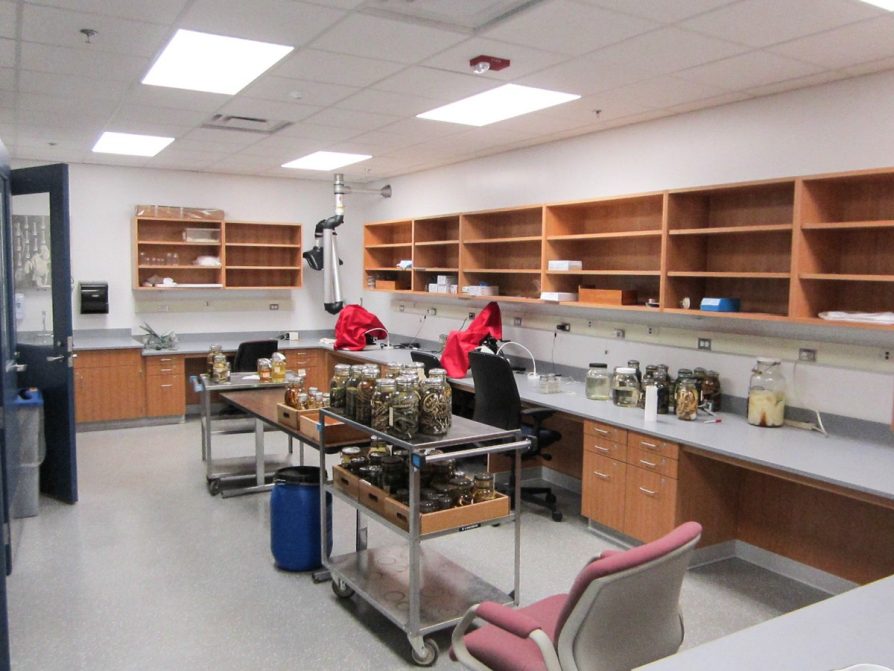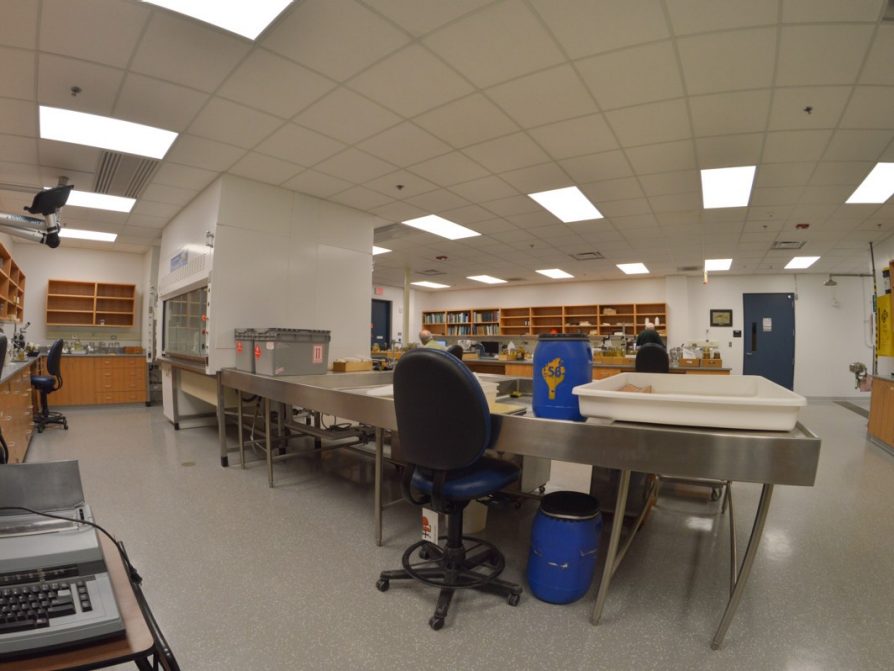 Paper Collections – Our Divisional reprints and field notebooks are located in Room 1420 in compacted shelving.  The Insect Division has special Acari, Odonata and Orthoptera reprint libraries. Our field notes are located there as well, but at least 90% are digitized and available online. As of June 2016, we know that the UM Library will be housing portions of their Entomological volumes at Varsity Drive in the near future.
Demonstration Room – A multi-purpose room than can be used for seminars, workshops, demonstrations and gatherings.